THE STORY OF WATERFALL
"You can feel God's beautiful and peaceful presence here."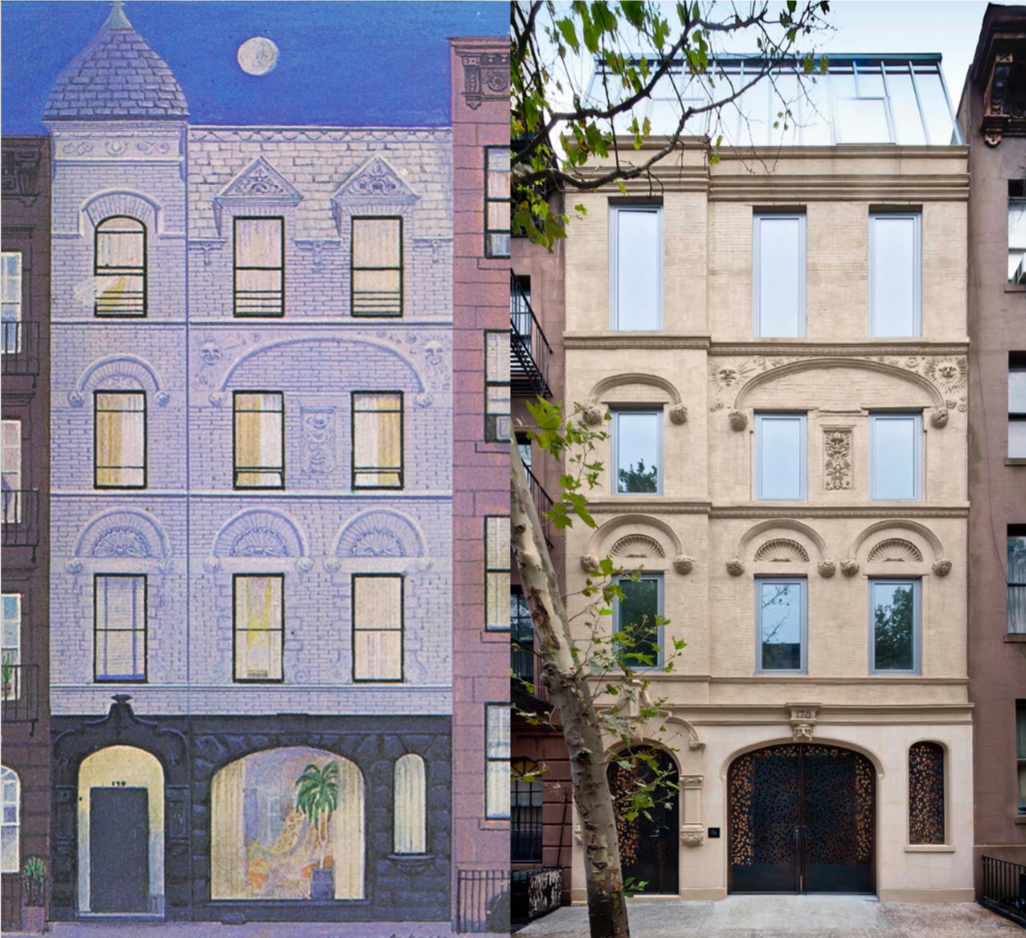 For two generations, the Tillett family artisans and craftsmen used the carriage house as a resi- dence and studio since the 40's. In honor of the heritage of the property, Kate Shin recreated the facade directly from a painting of the original building. The home was redesigned to be a state of the art modern gallery.
The beloved and welcoming Waterfall Mansion & Gallery launched out of a surprising series of events. Initially, Kate Shin, a real estate private equity investor saw the Upper East Side property as a good investment. Two generations of artisans and craftsmen from the Tillet family had lived and worked there for over 120 years, giving the location a beautiful artistic heritage. Kate worked with world-renowned architect Toshiko Mori who designed a new carriage house from a gut renovation that took over 4 years to complete. What emerged was a beautifully designed 7 level space that married an art gallery with a residence. While she was waiting to sell to the highest bidder Kate curated free exhibitions and special events. These new experiences introduced Kate to the art world and the artist community and soon led her to drop her plans to sell the property and instead launch the Waterfall Gallery.
10 years after breaking ground, the Waterfall Mansion & Gallery is a respected name in many circles. Spiritual, art, culture, business, non-profit and diplomatic circles, to name a few, have been touched by the art and the colorful, energized, inspiring atmosphere at Waterfall. Over the years, Kate has opened her space to hundreds of artists, businesses, foundations, charities, and patrons. She has fed them the finest cuisine of love, compassion and creativity - the two main ingredients always being inventive art collaborations with her over 400 artists combined with her own personal inspired brand of authenticity, hospitality and her steady commitment to excellence. Waterfall Mansion and Gallery is a cultural hub that includes the Waterfall Mansion Foundation, the Waterfall Gallery, and the Waterfall Artist Ministry. As an ecosystem that intersects commercial, socially responsible, and non-profit community interests, Waterfall has been organically connecting artists, leaders, influencers, patrons, and others around faith, art, and culture since opening in 2014.
Waterfall develops platforms and programming for its patrons that also provides resources and better conditions for its artist's creativity and careers. Also, as part of Waterfall's continuous commitment to the public, we have designed a public art campaign and we have created educational content focused on spirit, art, and culture as an ongoing gift to our larger society. We believe that culture should be nurtured by caring, authenticity, unity, honor, presence and wisdom. These elements of character formation are all supported to enhance the atmosphere and leadership at Waterfall.
WATERFALL MANSION & GALLERY:
CREATING HOME
A PLACE OF SPIRIT, PEACE, CREATIVITY AND HEALING
Waterfall believes that the feeling of home unlocks and frees us all to be fully at rest. We become potent, creative and whole, while enjoying a stronger sense of our identity and our freedom created at Waterfall. We are then liberated to explore divinely inspired creativity, which is beneficial in life and in any healthy creative process.
At the core, Waterfall is a PLACE overflowing with love, compassion and hospitality as a special home away from home in NYC for artists, foundations, and others.
The work of the Waterfall Cultural Hub is to build on that vision of HOME-creating an elegant, peaceful and safe place for community, character formation, and spiritual healing. Our VISION is to:
Grow Waterfall Mansion & Gallery culture as a model of HOME-a place of spirit, creativity, and hospitality

Cultivate Waterfall as a favorite holistic hub to Artists, Foundations and Patrons

Introduce the HOME culture of Waterfall into the Public domain to foster healthier and more beautiful Character Formation in society at large

MISSION STATEMENTS
To support an expanding roster of 400 international artists through themed exhibitions, educational classes, counseling and prayer groups for their personal enrichment

To develop meaningful & beautiful Spirit, Art and Culture programming co-curated and supported by our Ambassadors and Foundations

To launch expansive Public Art & Culture projects focused on expanding the experience of HOME starting in NYC

To serve as an effective, spirit-led, strategic-connector