THE STORY OF WATERFALL
"You can feel God's beautiful and peaceful presence here."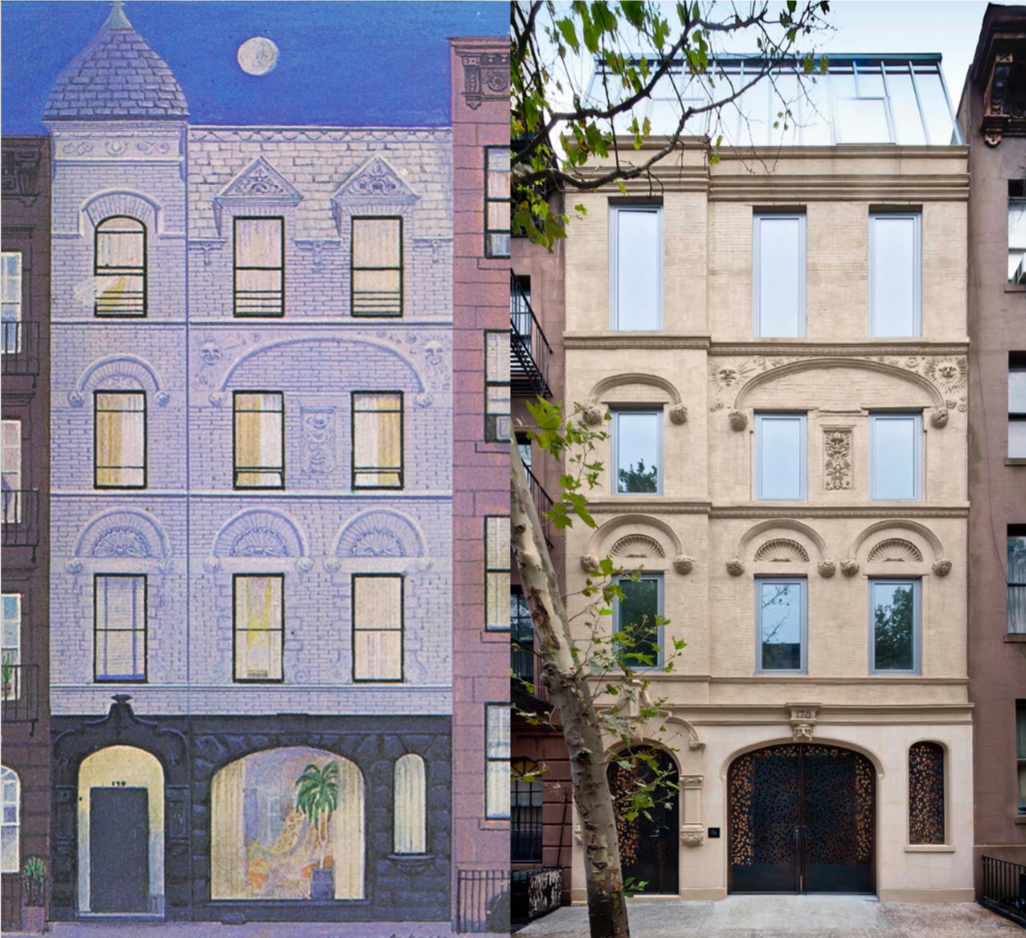 For two generations, the Tillett family artisans and craftsmen used the carriage house as a resi- dence and studio since the 40's. In honor of the heritage of the property, Kate Shin recreated the facade directly from a painting of the original building. The home was redesigned to be a state of the art modern gallery.
The beloved and welcoming Waterfall Mansion & Gallery launched out of a surprising series of events. Initially, Kate Shin, a real estate private equity investor saw the Upper East Side property as a good investment. Two generations of artisans and craftsmen from the Tillet family had lived and worked there for over 120 years, giving the location a beautiful artistic heritage. Kate worked with world-renowned architect Toshiko Mori who designed a new carriage house from a gut renovation that took over 4 years to complete. What emerged was a beautifully designed 7 level space that married an art gallery with a residence. While she was waiting to sell to the highest bidder Kate curated free exhibitions and special events. These new experiences introduced Kate to the art world and the artist community and soon led her to drop her plans to sell the property and instead launch the Waterfall Gallery.
10 years after breaking ground, the Waterfall Mansion & Gallery is a respected name in many circles. Spiritual, art, culture, business, non-profit and diplomatic circles, to name a few, have been touched by the art and the colorful, energized, inspiring atmosphere at Waterfall. Over the years, Kate has opened her space to hundreds of artists, businesses, foundations, charities, and patrons. She has fed them the finest cuisine of love, compassion and creativity - the two main ingredients always being inventive art collaborations with her over 400 artists combined with her own personal inspired brand of authenticity, hospitality and her steady commitment to excellence. Waterfall Mansion and Gallery is a cultural hub that includes the Waterfall Mansion Foundation, the Waterfall Gallery, and the Waterfall Artist Ministry. As an ecosystem that intersects commercial, socially responsible, and non-profit community interests, Waterfall has been organically connecting artists, leaders, influencers, patrons, and others around faith, art, and culture since opening in 2014.
Waterfall develops platforms and programming for its patrons that also provides resources and better conditions for its artist's creativity and careers. Also, as part of Waterfall's continuous commitment to the public, we have designed a public art campaign and we have created educational content focused on spirit, art, and culture as an ongoing gift to our larger society. We believe that culture should be nurtured by caring, authenticity, unity, honor, presence and wisdom. These elements of character formation are all supported to enhance the atmosphere and leadership at Waterfall.
WATERFALL MANSION & GALLERY:
CREATING HOME
A PLACE OF SPIRIT, PEACE, CREATIVITY AND HEALING
Waterfall believes that the feeling of home unlocks and frees us all to be fully at rest. We become potent, creative and whole, while enjoying a stronger sense of our identity and our freedom created at Waterfall. We are then liberated to explore divinely inspired creativity, which is beneficial in life and in any healthy creative process.
At the core, Waterfall is a PLACE overflowing with love, compassion and hospitality as a special home away from home in NYC for artists, foundations, and others.
The work of the Waterfall Cultural Hub is to build on that vision of HOME-creating an elegant, peaceful and safe place for community, character formation, and spiritual healing. Our VISION is to:
Grow Waterfall Mansion & Gallery culture as a model of HOME-a place of spirit, creativity, and hospitality

Cultivate Waterfall as a favorite holistic hub to Artists, Foundations and Patrons

Introduce the HOME culture of Waterfall into the Public domain to foster healthier and more beautiful Character Formation in society at large

MISSION STATEMENTS
To support an expanding roster of 400 international artists through themed exhibitions, educational classes, counseling and prayer groups for their personal enrichment

To develop meaningful & beautiful Spirit, Art and Culture programming co-curated and supported by our Ambassadors and Foundations

To launch expansive Public Art & Culture projects focused on expanding the experience of HOME starting in NYC

To serve as an effective, spirit-led, strategic-connector
KATE SHIN STORY | WALKING ON WATER
When the architect Toshiko Mori asked Kate Shin "what symbolizes a home for you?" Kate's response was "a waterfall!" While growing up in Korea, every childhood home where she lived featured a waterfall. Thus, the first thing Toshiko designed was a 22 ft indoor waterfall, which gave rise to the name the Waterfall Mansion & Gallery. It is also the first residence over 10,000 sq ft, in the U.S. that is LEED silver certified as a 'green building'. The exquisite Waterfall Mansion & Gallery is so much more than meets the eye—so is its owner.
A former real estate investor/developer, Kate purchased the 1890's carriage house over a decade ago from the family of Leslie and D.D. Tillet, famed textile designers to celebrities, such as Greta Garbo and Jacqueline Kennedy Onassis. Enthralled by the building's artistic past, Kate was determined to preserve its heritage through the reimaging of the Waterfall Mansion & Gallery, a new paradigm in art and culture. This exclusive gallery and cultural hub, located just blocks away from the MET on East 80th Street has become a sanctuary for artists and collectors alike.
Kate was born in Seoul, South Korea, into a prominent business family. The youngest of three siblings, she was the apple of her father's eye. He was her ballast and inspiration.
By age 12, Kate's stunning operatic performances had attracted the attention of some of Seoul's most distinguished arts institutions. In the eyes of her tutors Kate was a prodigy but for the young Kate Shin was a happy curious child and her greatest joy was in pleasing her audiences. She was outgoing and academic, but struggled to reconcile the emotional highs she felt on stage with her parents' high expectations. When her grades began to slip, feeling pressured and confused Kate lost faith in her talent, her love for the stage and the spotlight. Kate prayed and asked God to take her voice away. God heard her cry.
Her young adult years were also marred by another shocking loss. Her father, a successful manufacturer, suddenly died. For Kate, who was studying in America at the time, the loss of her father was devastating. His untimely death would be the unexpected catalyst that would transform her life.
In 1990, Kate joined her sister to study in America. After graduating from the United Nations International School in Manhattan, Kate Shin went on to earn a bachelors of arts in finance and marketing from Stern Business School at NYU, then briefly returning to Korea, where she earned an MBA from Yonsei University, one of Korea's most prestigious business schools. She then rounded out her studies with a masters of science in real estate development and finance at Columbia University.
She became known for her impeccable style and business acumen, Kate Shin stood out as a top closer. She soon became a favored fund manager at Angelo Gordon & Co. and one of New York's first Asian women in private equity real estate, managing a direct investment in the Asian real estate market. She earned herself the nickname "The Bomb" for her ability to execute complex deals worth billions of dollars including the fund's famous Chelsea Market project in NYC.
Armed with her business legacy, in 2008, Kate Shin created her own fund and plunged straight into the grip of a massive global financial crash. Having newly acquired the Waterfall site, Kate enlisted the help of award-winning Japanese architect, Toshiko Mori. But as markets plummeted, contractors reneged on their contracts taking her deposit with them as their suppliers went bust and business vendors filed for bankruptcy. What began as a promising journey into entrepreneurship became her road to Damascus moment.
For four and a half years, she matched fear with extraordinary courage. Passionate and driven she poured her heart and faith into the Waterfall Mansion & Gallery. Two years behind schedule the gallery she imagined finally swung open its ornate carriage doors to a who's who of New York's elite. The media flocked to the opening gala, hailing the project a huge success! In a campaign to court buyers, Kate staged a number of art shows, featuring collectable blue chip artwork such as Picasso, Chagall, LeWitt, Kusama, Murakami and Warhol.
Artists and the art conscious began to frequent Waterfall. Kate immediately empathized with the creatives around her, those struggling to understand their path and purpose in life, often bewildered by feelings of isolation, rejection and fear—unable to reconcile themselves to an art world that valued money above all else. She began to identify with the artist's journey, drawn to their suffering, similar to her own as a little girl eager to please the world on her operatic stage, but afraid of losing her identity in the process. Artists and entrepreneurs gravitated to Kate's vision of Home. The Waterfall Mansion & Gallery soon became a resting place for the soul, a place of community and support, a safe space for healing and renewal.
"Waterfall is the flagship building for a movement of elegance that will affect the river of culture,
a headwater from which many streams of Culture Care will flow out."
"Waterfall is, simply, where the "impossibilities" is made possible, through the tears and care of Kate Shin."
~ Waterfall Artist, Makoto Fujimura

Today, ten years later, Waterfall Mansion & Gallery has evolved into a place of human flourishing. Kate's powerful personal conviction liberates fine artists and other creatives from the self-limiting mindset of lack, scarcity and fear. Kate is using her unique platform not only to bolster their commercial value but to nurture the whole artist—mind, heart, soul and spirit.
The spirit filled Waterfall Mansion & Gallery for the arts is no ordinary "commercial gallery". Kate, lovingly refers to the newly launched Waterfall Arts Foundation as a "new wineskin". Kate is more than a curator or gallerist. Her vision embraces innovative cross platform branding. Her role is ever generative and multi-hyphenated. She is in short, still a developer, but a developer of cultural terrains. She never really left the stage she graced as a little girl, she is still singing and increasingly directing the aria of cultural renewal through Waterfall.
Kate Shin's remarkable vision plants a banner for the future of culture care in action. Channeling the energy of warrior and mother, Kate Shin is both confronting and gentle. Like a good mother, she knows that sometimes the greatest spiritual and creative growth is found in the tension. It's in that tension, standing shoulder to shoulder with artists whose work she believes in, where Kate Shin finds her most joy.
Through the Waterfall Mansion & Gallery Kate continues to innovate, recently incorporating the Waterfall Arts Foundation, a non-profit foundation that promotes and fosters the artistic education, care and development of international artists, ministries and communities. The Waterfall Arts Foundation also offers art business round tables, retreats (residencies) and mentorship opportunities. Kate's sustainable business model is a hybrid platform, an ecosystem that connects creators and fosters business partnerships and collaborations. Waterfall is an incubator for human flourishing that will transform the river of culture for years to come.

Waterfall cultivates, restores and empowers.